So I finally did it – I've created my GoFundMe account. I was terrified of the process, so I put it off as long as I could, but it had to be done. You can find it here: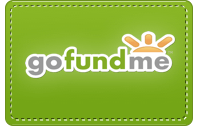 Probably the scariest thing about setting up a fundraising account for my pilgrimage (besides getting over my massive dose of pride) was that it also doubles as a formal declaration that I am definitely going to write a book. It's not just an announcement, you see – it's a promise that anyone who donates at least $10 gets a copy of the ebook when it's done.
Isn't that terrifying? It seems so final. Hold on while I go breathe into a paper bag for a little bit. OK, I'm back.
So here's what we know right now: I am in possession of a working passport, my brand new pilgrim's credencial from the American Pilgrims on the Camino, a sleeping bag, and a beautiful new backpack with all the bells and whistles. I need clothes, shoes, hiking poles, and a new camera. I am leaving in 66 days. I will most likely lose my job when I leave. I am writing a book about my weird relationship with St. Francis (yeah, sometimes I call him Frankie), and what he shows me on the Camino. I'm going to come back, finish the book, dive into my origami, and hope that the Universe catches me.
Holy crap, this is so real.